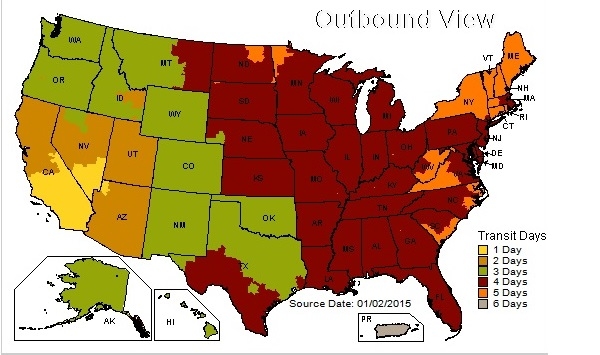 Shipping
The Badge Company uses UPS for all its shipping needs. Please refer to the UPS Zone Map to the right for Ground transit times.  If your order must arrive sooner than the Ground options allows we will be happy to send your order out UPS Next Day, Second Day or 3 Day Select.  We also have no problem using your Corporate Shipping account.  DHL, FedEx, UPS are all options. Just let us know.
Returns and Exchanges
Damaged merchandise must be reported to The Badge Company within 48 hours of receipt of delivery. The Badge Company will pay freight both ways only on anufacturer's defective merchandise, following issuance of a return authorization number and is not responsible for incorrect custom orders. Unauthorized returns may be refused. All standard logo only products may be subject to a 20% restocking charge. The invoice or a copy must accompany the merchandise returned. Credit or even exchange will be given only on items returned in original condition, or as authorized by The Badge Company.
Artwork Submissions
Logo and other artwork is to be submitted in a camera ready, color separated, black and white format. Camera ready artwork can be reproduced exactly as submitted. Please email to artwork@thebadgecompany.com in
PC format in Adobe Illustrator (.ai) Version 10.0 or less or Corel Draw (.cdr) files. Photo copies or facsimiles of artwork are not considered camera ready artwork and may necessitate corrections/additions at an additional cost. Proofs/mock-ups will be provided at no additional cost. Please feel free to contact our Art Department prior to submission of artwork if you have any questions regarding the submission process or need any assistance.